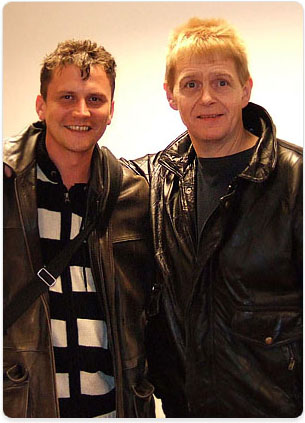 Sylvester Kosz & Terry Young
THE TWO: "24"
Imagine an album with classical pieces such as "White Christmas", "Santa Claus is Comin' to Town", "My Favourite Things" and others, followed by two great hymns and a new Christmas song written by Terry Young. Everything arranged in a kind of pop/smooth jazz style. The result is new life given to classical songs, and a wonderful production with a distinct sound,
The Two
sound, coloured by Terry Young's voice.
The Two
is a duo consisting of Sylvester Kosz from Dunakeszi, Hungary, and Terry Young, Kvinesdal, Norway. The both of them have been friends and music developers for years, and when Sylvester suggested to Terry that they should do a Christmas record together, a new era in their cooperation started. The album "24" includes seven classical Christmas songs, two wonderful hymns, and one new track written by Terry Young called White and Green.
Sylvester Kosz
has been a musician all his life. He studied piano at the Targu Mures Music Conservatory in Romania, and at the Franz Liszt Academy of Music in Budapest, Hungary. He was musical director of the band "Cotton Club Singers" for years and produced 11 albums with them. He produced albums for Hungarian movie and song star SZULÁK ANDREA besides touring with her. He has been conductor of bands in RTL and TV2 shows, and is today also a professor in jazz piano and arrangements, teaching at the Egressy Béni High School of music, Budapest.
Terry Young
struck his first piano and guitar chords at the age of six. His mother send him to several piano teachers, but the boy was such a typical "play by ear" talent, so after rehearsing classical pieces like To Elise he just closed the note sheets and played it by the ear. Before he reached 18 he had already been in and out of several bands including the backing band of the gospel choir Ten Sing. He then decided to proceed as a solo artist, and the singer/songwriter thing became his way. This decision brought him to Oslo, and for years he worked there as a manager in the music industry besides writing his own songs. He worked with some of the major acts in Scandinavia at the time. In a period he also lived and worked in Hamburg, Germany exclusively as a songwriter. Twelve years ago he build his own studio where he now lives. He also owns his own production company Young & Strong, and he is also about to finish a solo album which is to be released next year.
The Two
has put together an album which is more than just another cover production of well-known songs. They have brought a distinct sound to it, their own sound, and with Terry's voice it has turned out to be an album giving new life to classical pieces. The album was given the name "24" because Christmas night is on the 24th of December and Sylvester's birthday is 24th of January.
International Management:
Young & Strong
P.O. Box 282
N – 4491 Kvinesdal
Phone + 47 90 96 94 75
E-mail:
post@young-strong.no
The Two "24" is produced by Sylvester Kosz and co-produced by Terry Young.
A co-production by Sylvio Productions and Young & Strong.
Marketing and world wide sales and licensing exclusively by Young & Strong.
Pre-production and programming at Sylvio Studio, Dunakeszi, Hungary.
Additional programming and all overdubs and final mix down at Terry Young Studio, Kvinesdal, Norway.